Trend: Monochrome
Monochrome - it's this season's it word. Giving two fingers up to whoever said black and white was boring, this minimalist trend was all over the runways including Gucci, Marc Jacobs and Roland Mouret.

Trend: GM Flowers
Take a walk down the trippy garden path! From plastic roses at Holly Fulton, pop art daisies at Prada and gemstone gerberas at Moschino, flowers have never been so chemically enhanced.

Shop The Trend:
Oasis Davio Print Dress, £65.00.
Limited Edition Flower Bracelet, £10.00.
Zara printed palazzo pants, £29.99.
Asos Flower cut out bag, £35.00.
Pale Blue Flower Bead Embellished Denim Shorts
.
New Look Navy Floral Print Retro Sunglasses, £4.99
Marie Curie Crystal Daffodil brooch, £39.95
Trend: Aqua Fresh
Feeling blue? Well it is this season's most eye-catching trend. There's many shades but only one colour to sport this summer. From cobalt at Etro to cornflower at Chalayan and aquamarine at Zac Posen, take a deep breath and dive in.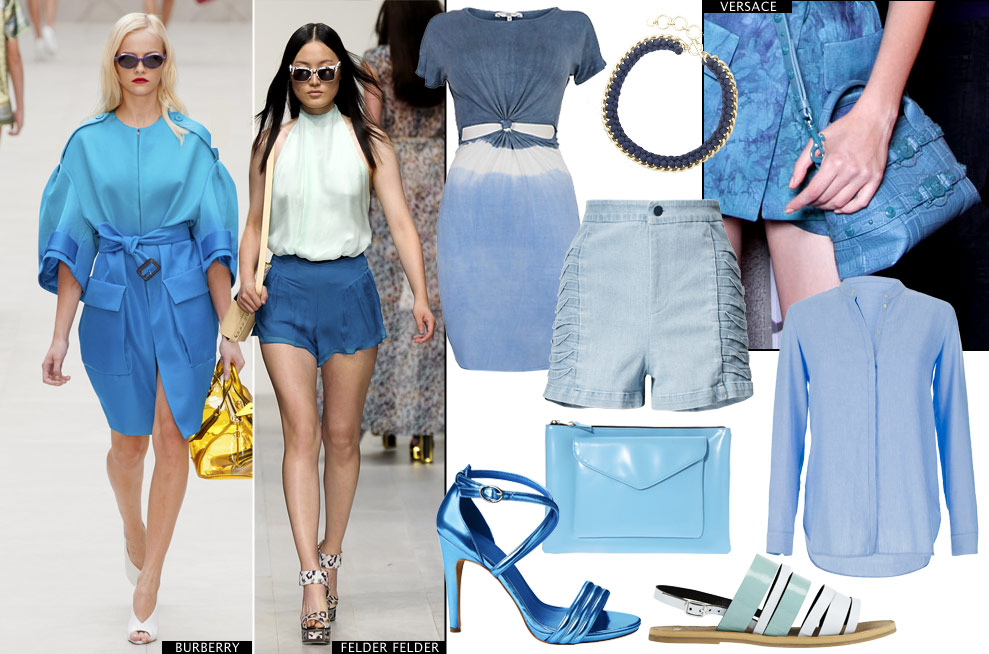 Shop the Trend:
Asos Clutch, £28.00.
Asos Fable Leather Flats, £28.00
French Connection Wrapped Curb Chain Bracelet
New Look Blue Tie Die Knot Dress, £16.99
Zara Blue Shirt £29.99
H&M Blue Sandals, £29.99
H&M shorts, £29.99
Trend: Clever Prints
S/S 2013 is all about letting your clothes do the talking - foreign postage stamps at Mary Katrantzou, Sicilian folklore at Dolce & Gabbana and colourful exaggerated leopard print at Kenzo. Go bold, go bright, go forth.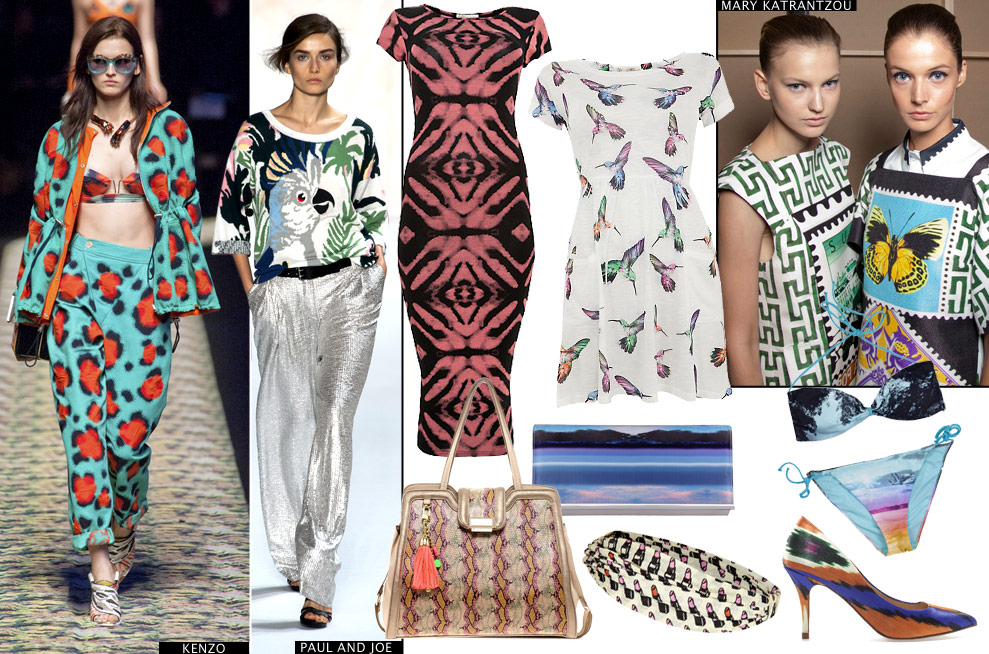 Shop The Trend:
Dorothey Perkins Scenic Clutch, £22.99
Zara Print Bikini
New Look Hummingbird Tunic, £19.99
New Look Pink Tie Dye Midi Dress, £14.99
Topshop Lipstick Headband, £6.00
Zara Court Shoe, £39.99
Pauls Boutique Maisy Suede Patent Bag, £65.00
Trend: Swinging Fringing
From glitzy metallic fringing at Versace to leather at Rodarte, silk at Nina Ricci and raffia at Donna Karan - it's evident for SS/13 it's all about the shimmy detailing.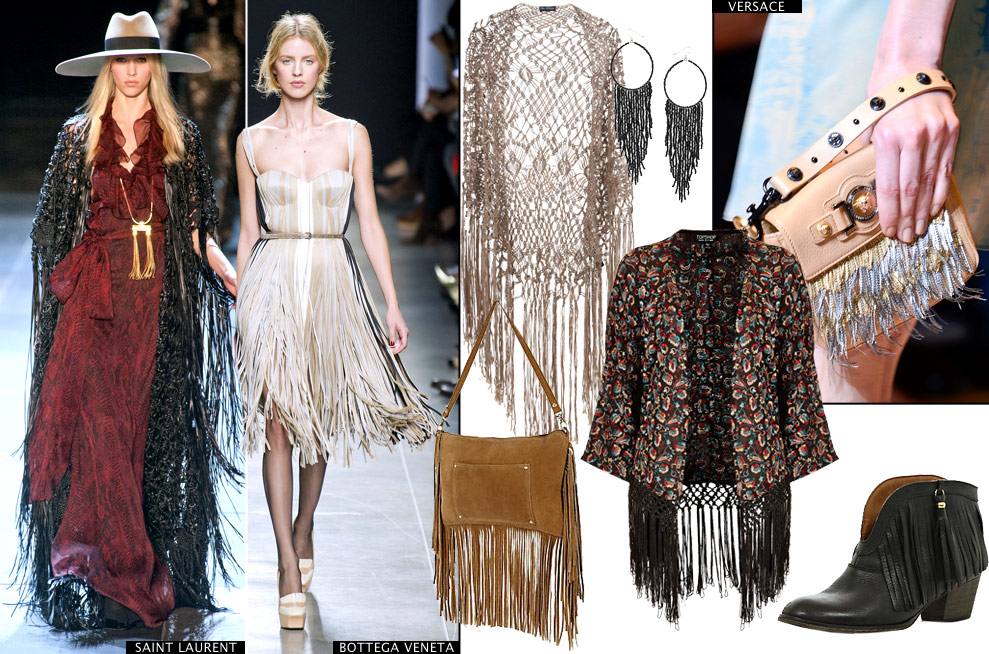 Shop the Trend:
River Island Black Fringed Ankle Boot, £55
River Island Tan Suede Body Bag, £35
Embroidered Fringe Kimono, £45
Miss Selfridge Oversized Fringe Crochet Shawl, £35
Miss Selfridge Bead Tassel Hoops, £12.50
Trend: Gruffles Flamenco Forte
Get ready to be seduced by the gruffle. With hips all a wiggle it sauntered down the SS/13 runways. All sultry curves at Balenciaga, Gucci and Marni. Guaranteed to cause yells of Olé!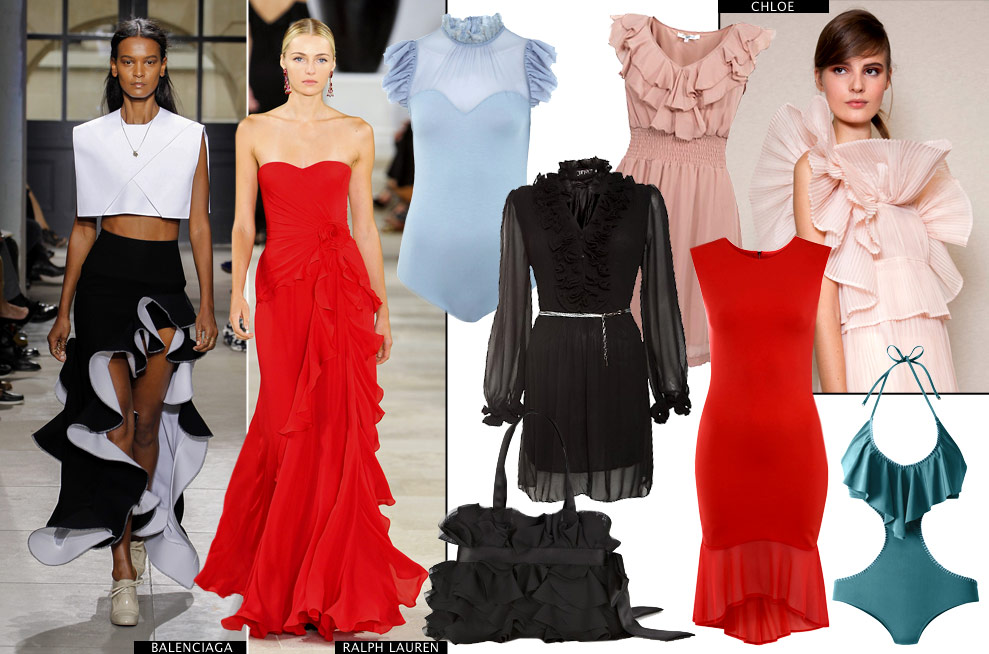 Shop The Trend:
Miss Selfridge Silver Chiffon Ruffle Body, £26
Coast Ruffle Bag, £35
New Look Jumpo Black Ruffle Neck Dress, £30
New Look Pink Ruffle Shirred Waist Chiffon Dress, £16.99
H&M Ruffle Swimsuit, £14.99
Miss Selfridge Red Fishtail Bodycon, £25.00
Trend: Geometry class
Sit up and pay attention please. It's time to go back to geometry class. Thankfully fashion is much more exciting with jumbo checks at Marc Jacobs and super even stripes at Moschino. So grab your ruler and measure up this SS/13.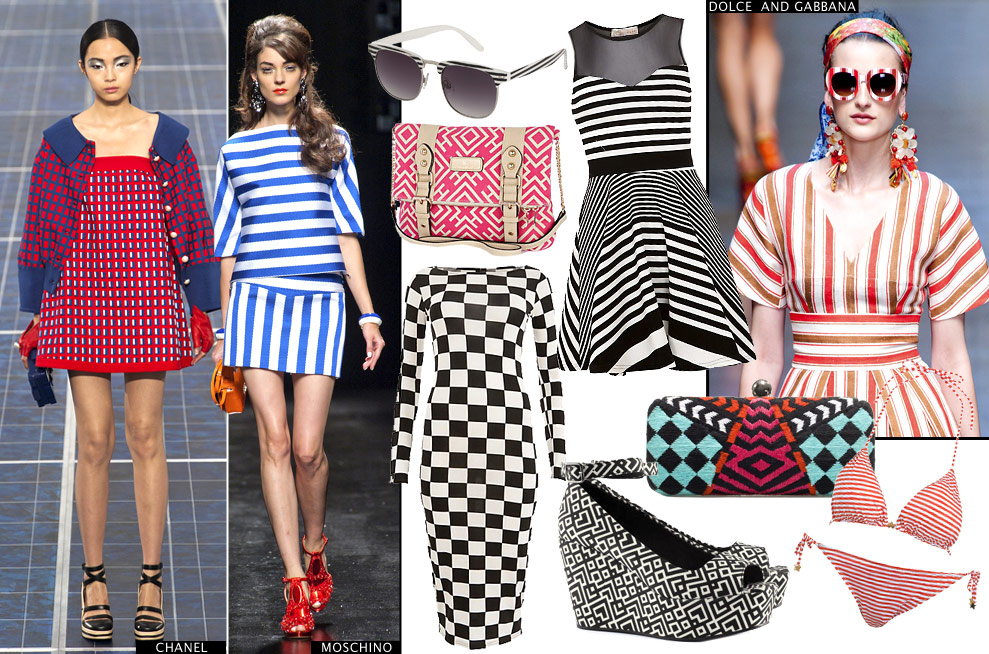 Shop The Trend:
River Island Pink Aztec print cross body bag, £25
H&M Peep Toe Shoe, £24.99
New Look Stripe Mesh Panel Skater Dress, £19.99
New Look Chessboard Midid Dress, £14.99
Topshop Mono Stripe brow Sunglasses, £16
Miss Selfridge Red Stripe Bikini, £26
Zara Ethnic Evening Bag, £29.99
Trend:
Geisha Delisha
Prada, Hermes, Etro and Emporio Armani all looked Eastwards for inspiration this SS/13. To create your own origami shaped masterpiece take one quilted kimono jacket, fasten with an obi belt then shuffle onwards and upwards in your leather judo socks.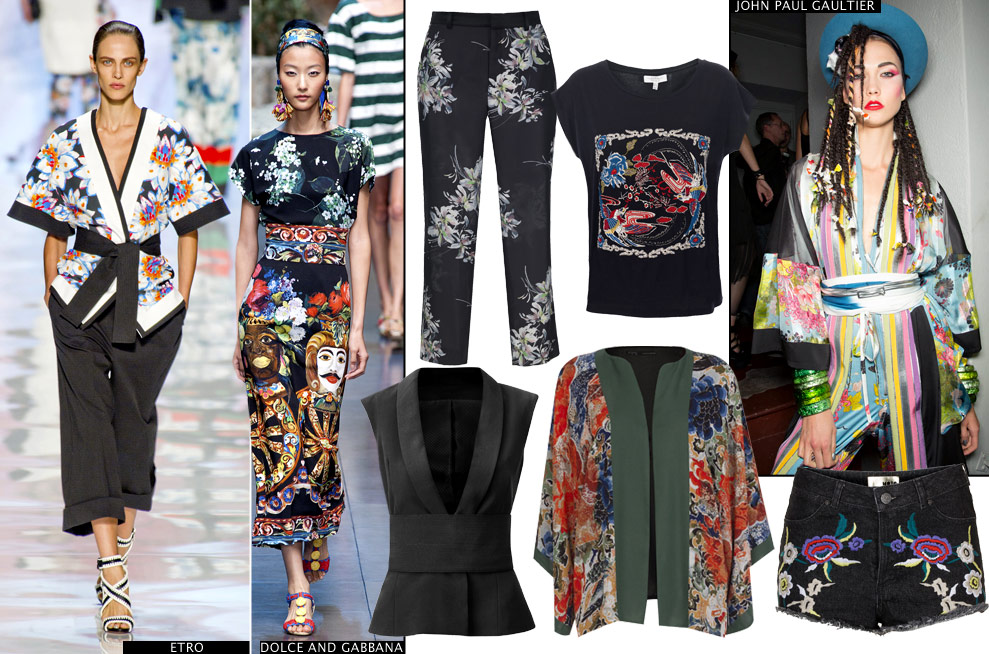 Shop The Trend:
Zara Japanese Print Kimono, £29.99
Zara T- Shirt
Zara Printed Pijama Bottoms, £39.99
MOTO Floral Embroidery Hotpants, £45
Trend: Sixties Super Graphic
Take a trip back to the sixties with bold primary colours and pop-art prints spliced together. Art degree optional.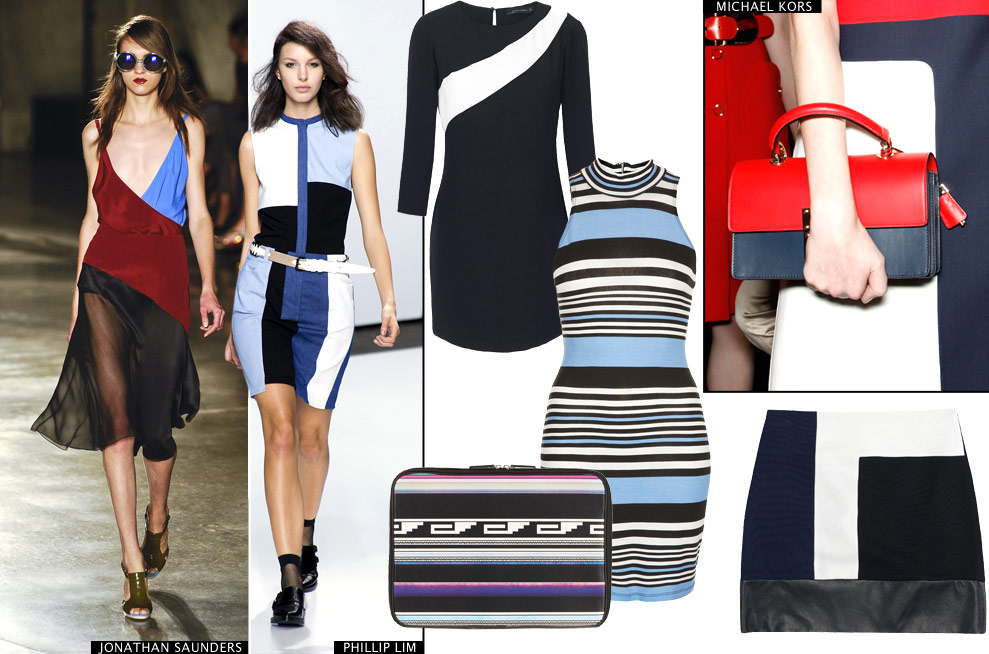 Shop The Trend:
Topshop High Neck Stripe Dress by Love, £28
Topshop Surf Rave Laptop Case, £18
Zara Dress, £49.99